So, I've been tagged by Stuart over at threetimedaddy.co.uk to do a post doing the rounds in the blogosphere entitled 10 Things That Make Me Happy.
Contrary to what I initially thought, prioritising things that make me happy into a small list of ten things, was quite difficult.  I'm not going to simply state my children and husband make me happy – as that's a given.  No, I'm going to be more specific.
So, in no particular order (except number 1, obvs!), let's take a look at what I came up with shall we?
Number 1 – Dessert
Yes family, dessert.  Desserts are my first true love.  They were part of my life way before you guys came along, and will likely remain my true love until such point that you learn how to make amazing desserts for me, and then (and only then) will you be in the running for the top spot of things that make me happy.
Dessert never frustrates me. It never embarrasses me in public.  Dessert doesn't wake me up at stupid o clock in the morning.  It doesn't answer back.  Dessert doesn't make me question my sanity.  It always makes me feel good.  Dessert puts me first.  With dessert it's all about me – quality dessert time.  Dessert understands me.  Nothing beats it.
Number 2 – Watching My Children Use Their Imaginations
As I write this post, knowing that one of my points will be my kids imaginations, one of my twins has just made a volcano.  He's made it out of a bottle of water and a blanket, using my husbands dressing gown tie as the lava.  He explained his creation step by step while he did it.
I always sit in fascination and wonder at their little imaginations creating play from nothing.
We made a conscious decision when the boys were born, not to overwhelm them with unnecessary trending toys while they were small, choosing instead to wait until such point that they see toys on TV adverts and excitedly exclaim 'I want that'.  (A stage we are now entering!)
There have been a few times I've wondered if we made the right decision, when they've been to someone else's house, for example, and been really excited at the countless shiny plastic toys on offer.  But ultimately I'm thrilled with our decision.
We've watched the twins develop an imagination that knows no bounds.  They can create a world out of anything and everything, and they never fail to amaze, and amuse us with how they play.  Many people have commented on their play abilities, and it just reaffirms our decision.
Number 3 – My Relationship With Dave
I know this seems quite general, after I said I would be more specific.  But allow me to elaborate…
Me and Dave are like one and the same – opposites don't attract in this case.  Everything about us and our relationship fits like a glove and we both know we're going to be together forever.  No one could ever 'get us' quite the same way that we get each other.
My grandparents had been married 65 years when my grandma died.  Sixty Five years!  I was always in awe of their relationship, like best friends – always happy.  Always joking.  Always together.  They don't make them like they used to…..except they have, with me and Dave.
Dave always makes me happy – we are constantly laughing.  Our very relationship and all that it encompasses, makes me happy.
He's my lobster!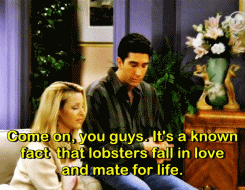 Number 4 – Watching Lewi & Ollie Become Best Friends
Whether it's seeing them discussing an insect they've found outside, or something in a book or on YouTube, or whether it's plotting to do something they know they shouldn't when they think we can't hear them (we can always hear you!!!), nothing is more heart-warming than seeing our boys becoming true best friends.
This last year has seen them properly start to develop their personalities as individuals, as brothers, and as friends.  They're beginning to understand how the other works, what makes them happy or sad.  They say and do things with intention, to amuse each other.  They are beginning to show compassion towards one another.  And they're starting to stick up for each other.
There can surely be no bond stronger than that of twins.  A bond that even us parents of twins will never fully know.  It's special, and unique to twins.  I hope they'll be best friends for life.



Number 5 – Having A Poo In Solitude
Remember the days when you could freely go for a poo, and it was nice and relaxing?  The last time for me was 2013.  Had I known that my last truly enjoyable poo was to be my last truly enjoyable poo, I would have made sure to savour the experience a little more.
Nowadays barely a single poo is enjoyable.  During the daytime I get interrupted by one, or both, of the twins as soon as I sit down.  During the evening my husband is in the next room, and despite how many years we've been together I still cannot stand the thought of him hearing me poo!  So trying to silence your poo is also not enjoyable.
I have now resigned myself to the knowledge that I only have a nice relaxing poo once every two to three weeks – if I'm lucky.
(By the way, I'm aware this would have been more ironic if it was number two in the list! Haha!)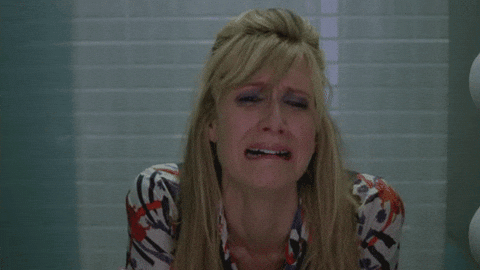 Number 6 – Tulips
Nice and easy.  Tulips are my favourite flower.  I love how clean looking they are – no scraggly ugly leaves, or kinks in the stem.  Two block colours.  Gorgeous!  I love love love when Dave buys me tulips.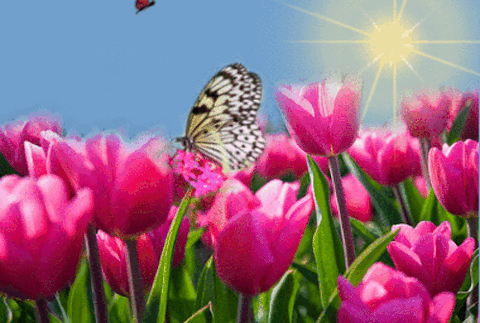 Number 7 – Re-watching My Favourite TV Box Sets
I have loved so many TV series in my life.  Shows that have gotten a firm hold of my heart, for varying reasons, and I will love them forever and never ever tire of watching them.  Truly.  Those shows are:
Friends
Sex & The City
Ally McBeal
The Cosby Show – (don't say a word!!)
Only Fools & Horses
The Golden Girls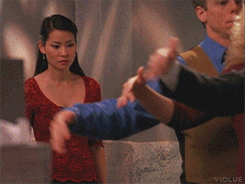 Number 8 – Atchoum The Cat
If you don't know Atchoum the cat then you are missing out on a huge treat!  Go follow him on Instagram and Facebook right now!
Number 9 – Going on The Slides At Playgrounds
Much to the amusement of my boys, I love going down slides. I'm sure that soon their amusement will turn to embarrassment, so I intend to make full use of the slides until that sad day when I have to stop – at least in their presence anyway…
Number 10 – Driving
I love driving, specifically on my own. It doesn't happen often that I'm alone in the car, but when it does I make sure I've got great music playing loud and then I hit the open road!
In Fact, I love driving so much, that pre-family I considered driving old people on coach holidays.  Oh yes.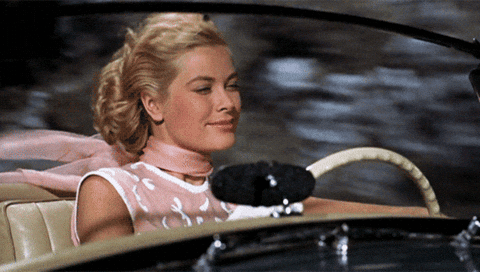 Number 11 – Forest Fr1ends on Twitter
Oh my days, this parody Twitter account has me absolutely howling!  It's completely inappropriate, and I love it!  A guaranteed way to make me happy is to scroll through the Forest Fr1ends Twitter account.
If you're easily offended then give it a swerve, if not then go check it out!
do that trick where you make mummy's social life disappear by just f**king existing… pic.twitter.com/qOuPHorqdR

— forest fr1ends (@forest_fr1ends) July 7, 2017
---
So, there are my 10 things that make me happy.  Thanks to Stuart from threetimedaddy.co.uk (go have a read of his blog!) for the nomination to do this post – it really got me thinking!
Now, because I believe they will give me some amusement with their lists, I now pass the baton onto:
Let's see if they do it hey!
Thanks for reading!
(By the way – 10 virtual points to anyone who noticed I accidentally did 11 things instead of 10)